I'm pleased to be joining Susie Lapin, principal of Peninsula Physiotherapy and  Restoring Balance Retreats, for her popular wellness retreats for women in Bali in 2015, which will focus on 'Restoring your Inner Balance through Ayurveda'. It's going to be 7 days of healing through delicious healthy food, massages, daily yoga, meditation and relaxation sessions designed for your specific constitution – being pampered and revitalised in beautiful Bali!
The Retreat Dates in 2015 are:
–  May 25-31
–  October 5-11
I'm here in Bali now, getting ready for the start of the May retreat, tomorrow afternoon.
If any of your are interested to join us for the October retreat, there are limited spaces left, so contact me for more details. For more information about Restoring Balance Retreats, click here.
Here's an update on this retreat – it's been a month since the last retreat concluded, and the ladies who attended are still feeling the benefits. Some, in fact, consider the retreat to have been a life changing experience and are all geared up to come again next year!!!!
Here are some images of the time spent in Bali, restoring balance and connecting with spirit:
The lovely retreat venue, Nyanyi Riverside Villas
The retreat activities
The quiet time
Bonding over food and drink
Out and around Bali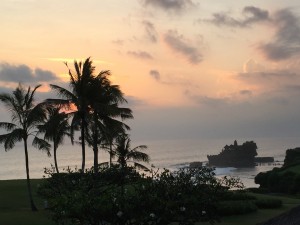 The Green School
The Lovely Ladies

Om Swastiastu
peace and greetings